June 10, 2014

Four young people from our church will be participating in the 4th of July Miss Whitewater Pageant – on July 3rd, 2014. ALL money raised from this event, will go to: Honor Flight Network.
Emily Radaj – Sponsored by Bookwood Systems, ltd.
Morgan Radaj – Sponsored by Dick and Judy Triebold
Natalie La Breche – Sponsored by Fero's Auto Repair
Hannah Delaney – Sponsored by Mills Automotive

As part of the 2014 Whitewater 4th of July Family Festival celebration, with a theme of: Flying High over the 4th of July, these young ladies will be participating in the Miss Whitewater Pageant. This is not your typical Glamor Pageant. It's not about what you wear – but more about practicing public speaking, building self-esteem and self-image, community service, and raising money for a group or organization. The majority of the score is based on interview skills and community involvement.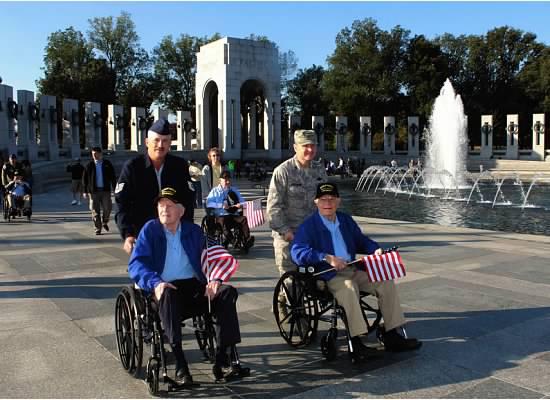 They are excited that this year, ALL proceeds from this event support HONOR FLIGHT NETWORK and their mission to transport our WWII heroes to Washington DC to visit and reflect at their memorial 🙂
Here are a few ways to support the girls and our HONOR FLIGHT Heroes:
Raffle tickets – the girls are selling raffle tickets until July 3rd for 12 gift baskets – tickets $1 each or 6-for-$5
Cash donations
Honor Flight Network is a non-profit organization created solely to honor America's veterans for all their sacrifices. They transport our heroes to Washington, D.C. to visit and reflect at their memorials. Top priority is given to the senior veterans – World War II survivors, along with those other veterans who may be terminally ill.
Of all of the wars in recent memory, it was World War II that truly threatened our very existence as a nation—and as a culturally diverse, free society. According to the Department of Veterans Affairs, an estimated 640 WWII veterans die each day. Our time to express our thanks to these brave men and women is running out.

June 6, 2014
www.Whitewaterbanner.com
The Wisconsin Economic Development Corporation (WEDC) and the Whitewater Community Development Authority (WCDA) announce that a second grant ($250,000) from WEDC's Capital Catalyst Program has been awarded to the Whitewater Community Development Authority.

(l-r) Jeff Knight, Chairman of Whitewater CDA; Lisa Johnson, Vice President of Entrepreneurship and Innovation of WEDC; Cameron Clapper, Whitewater City Manager; Reed Hall, Secretary and CEO of WEDC; Chancellor Richard Telfer, University of Wisconsin-Whitewater; Patrick Singer, Whitewater Common Council President.
This is the second Capital Catalyst grant award to the Community Development Authority, following a 2013 award that made $300,000 available to area companies. The award was presented by Reed Hall, Secretary and CEO of WEDC, at the Whitewater University Innovation Center.
WEDC's Capital Catalyst program provides matching grants to communities and other entities to assist startup or early stage businesses as they are in their initial stage of development and growth. While the program generally limits awards to technology-based businesses, WCDA manages the fund and is allowed to provide capital to businesses in one of several forms. These include a grant to make additional capital available to the business prior to its ability to generate substantial revenues. These grants do not require a repayment by the business.
WCDA may also provide a loan with repayments based upon a pre-negotiated percentage of the gross revenues. This allows for the business to begin its operations without the need to capitalize its initial repayments to the WCDA.
The third aspect is now the WCDA will have the ability to become an investor in the business. Under this award, the business will not have a set debt repayment schedule. Rather, the WCDA will participate in the profits of the business similar to any other private investor. This is a unique part of this program.
Funding decisions made by WCDA are based upon the needs of the business rather than a funding allocation based upon the number of jobs being created or retained. WCDA may also provide funds to be used outside of the city if it can be shown that the city will have a direct benefit from the investment.
In addition to the WEDC award of the second round of funding, businesses that received funding from the 2013 award will be recognized for their new business ideas and programs. These businesses have all been able to continue their growth with the assistance of this program. These businesses are all in the early development stages. The companies are:
Slipstream LLC – Grant award $10,000 – Slipstream is a software development company that has reached the final stages of design of a new software program that will allow citizens to register for city sponsored Parks and Recreation programs remotely.
Bomboard LLC – Grant Award $10,000 – Royalty Investment $100,000 – Water sports are a very large component of summer recreation activities for everyone. Bomboard LLC. has developed a new modular jet ski that is both less expensive than current products and easy to transport in the trunk of a compact car.
iButtonlink LLC – Grant Award $10,000 As this company sought to expand its operations, they relocated their operations to Whitewater rather than leave the state. iButtonlink LLC is a leading research and manufacturer of climate control monitoring sensors.
DP Electronic Recycling – Royalty Investment $50,000 – As the computer industry has grown in its use, so have the hardware products that are used by consumers. This has also led to an increase in waste products. DP Electronic Recycling has developed a process to help reduce excess discarded products. Using the old computer viewing screens, they are able to reuse these waste products by converting them into a durable tile product.
June 3, 2014
www.whitewaterbanner.com
Whitewater Girl Scouts gathered recently at Cravath Lakefront to celebrate all their accomplishments from the past year!

Whitewater has six troops ranging from Daisies all the way up to Cadettes. Morgan Radaj, a Cadette shared her accomplishment of earning her Silver Award. They also celebrated Troops #3336, #2332 and #2674 for bridging to the next level of Girl Scouts. A huge thank you to all the leaders who continue to pursue the Girl Scout Mission of building girls of Courage, Confidence and Character who make the world a better place. For more information on Girls Scouts, click here.